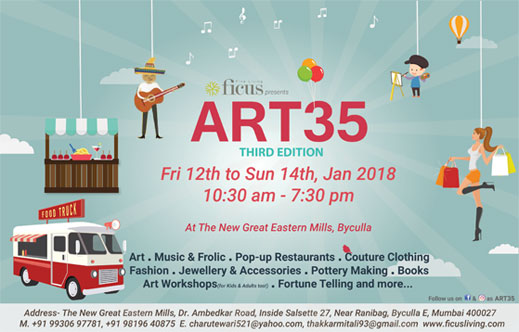 Ficus is proud to present to you ART 35, 2018; the annual Art Carnival with Variety of Art, Food, Fashion, Books, Childrens' Films & Workshops, Jewellery and Pop-Up Stalls!
ART 35 is an Art Exhibit where we promote Paintings, Installations, Sculptures of 35 Local Artists In India Under the Age of 35! That's the central idea of the Event, however we have created a Carnival around it with over 50 Pop-Up Stalls of Food, Fashion, Clothes, Jewellery and much more!
ART 35 attracts the who's who of the country and a footfall of 2500+ people from varied strata of life.
We'd love to extend a warm invitation for you to be part of this 3 Day Extravaganza!
The commercials for putting up a 3 Day 4' X 6' Stall would be INR 15,000, 8' X 8' Stall would be INR 25,000 and 10' X 10' Stall would be INR 35,000 ( All Inclusive ) [ We would provide a table, with a Tablecloth and 2 chairs ]
The Dates for the Festival are the 12th, 13th & 14th of January, 2018!
The Venue for the Carnival is 'The Great Eastern Mill Compound', in Heritage Byculla [ 10 mins from High Street Phoenix ]
For any questions or queries you may call me on +91 9819640875 or write back to me at thakkarmitali93@gmail.com
Kindly mark a CC to Ms. Charu Tewari, CEO, Ficus Fine Living at charutewari521@yahoo.com.
We look forward to having you on board!